Practicalities
Dates: Dec 3-4 2015, 09:30 – 18:00.
Venues: Thursday Dec 3: Antwerp, DE STUDIO (Maarschalk Gerardstraat 4, Antwerp) & Friday Dec 4: Brussels : ULB, Maison des Arts (Av. Jeanne, 56, Elsene/Ixelles)
Language: English
Entrance is free, but it is required to register in advance by e-mail at nele.wynants@ulb.ac.be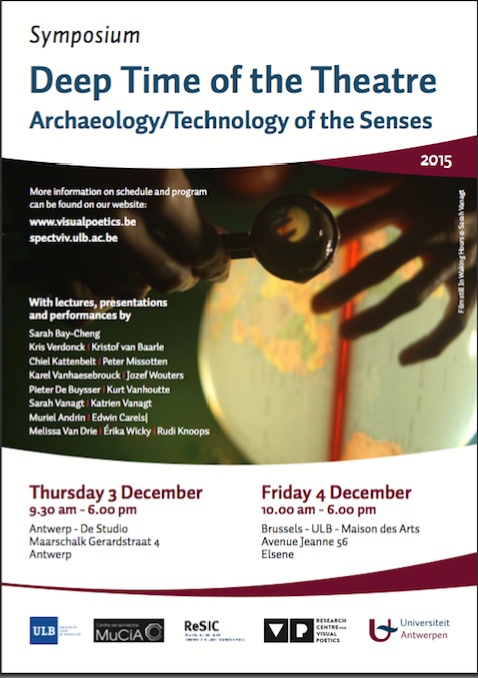 Program
With lectures, presentations and performances by Muriel Andrin (Université Libre de Bruxelles), Sarah Bay-Cheng (Bowdoin College, USA), Edwin Carels (KASK School of Arts), Pieter De Buysser (author and performing artist), Chiel Kattenbelt (Utrecht University), Rudi Knoops (KU Leuven / LUCA School of Arts), Peter Missotten (ZUYD & Toneelacademie Maastricht), Kristof van Baarle (UGent), Sarah Vanagt (film and media artist), Katrien Vanagt (Huygens Institute for the History of the Netherlands), Melissa Van Drie (French National Centre for Scientific Research, Paris), Karel Vanhaesebrouck (Université Libre de Bruxelles), Kurt Vanhoutte (Visual Poetics, UAntwerpen), Kris Verdonck (media and performance artist), Érika Wicky (Université de Liège) and Jozef Wouters (scenographer).
An event organized by the Research Centre for Visual Poetics (UA) and Filière Arts du spectacle vivant (ULB) supported by the University of Antwerp, Centre de recherche MuCiA, ReSIC (Centre de recherche en information et communication)