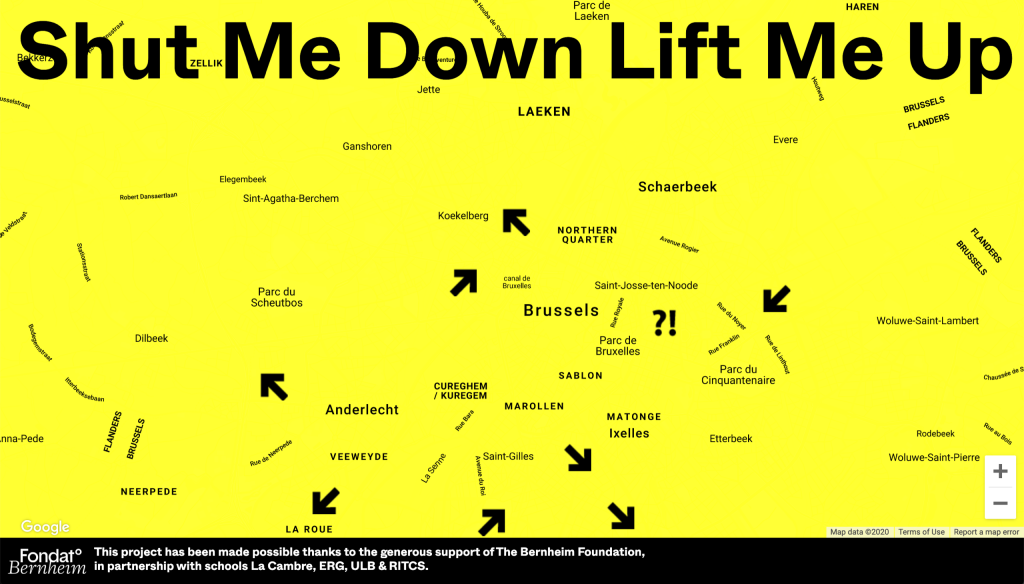 We kindly invite you to our first version of the online city festival SHUT ME DOWN LIFT ME UP, a pedagogical research project of ENSAV La Cambre (atelier Espace Urbain), ERG (Atelier Pluri Art, Livestream), RITCS (Drama Departement) and ULB (Master en Arts du Spectacle), generously supported by FONDATION BERNHEIM.
Release Date Saturday 28th November 2020 (yes, this one!)
Live Festival from 1pm to 5pm (take a snack!)
Meeting place : http://shutmedownliftmeup.be (hope you have a good sense of direction!).
Today, more than ever, we need new strategies to restore social cohesion as an alternative for our capsular society in which we all seem to have become floating, isolated nomads. We need new imaginary spaces which can take us beyond the fatality of our everyday realities, which help us to imagine, to desire and to fight for other possible worlds. And most of all: we need to re-connect.
During two weeks, we, students from four different Brussels-based institutions and training programs – visual artists from ERG and La Cambre, theatre directors from RITCS, dramaturges from ULB – intensely worked together. We tested new ways of doing field research in the city. The confinement of November 2020 obliged us to fundamentally rethink our research and presentation and rather than retract, we decided to take up the challenge.
Inspired by masterclasses led by Samirah Saleh, Myriam Van Imschoot, Joëlle Sambi and Benjamin Verdonck, we explored new windows of creativity, new cracks in reality, new possible ways of working with and in the city and its stories. We experimented with all kinds of means of expression: video, performance, animation, drawing, mail art, music, poetry, live-streaming and interventions of any kind.
SHUT ME DOWN LIFT ME UP is an online city festival in Brussels where we will present the results of this research. It is about the stories and the people of the city and about the use of artistic strategies to create new inter-human links.
You are most welcome to explore with us! The Live-Stream of SHUT ME DOWN LIFT ME UP will start on Saturday 1pm on http://shutmedownliftmeup.be The website will be launched on Saturday morning! See you there!
Facebook event: https://www.facebook.com/events/1853730971456310

Students:
Emilie Ade, Audrey Apers, Frederico Araujo Alexandre, Ferenc Balcaen, Pauline Bernard, Oscar Briou, Febe Coysmann, Julie Daddario, Tessa Daluwein, Jeanne Delmotte, Eduard DeVos, Louis Ducamp, Evan Durand, Lucas Engels, Bérénice Gasc, Thelma Gaster, Léa Guillot, Maurane Hanff, Judith Hesselmann, Ophélie Hilbert, Gökhan Kizilbuga, Ronja Koch, Virginie Krotoszyner, Marie Lou Laforet, Elvira Nataloni, Emma Noïtaky, Nele Oeser, Agathe Perrin, Tjardo Planckaert, Céline Polart, Lucie Pousset, William Scaceriaux, Kénor Ospina, Simon Torbeyns, Alexia Uzumyemez, Lynn Vandenheede, Marina Mišović,

Production and coordination: Sarah Caillard
Pedagogical team: Marie Feyereisen (ERG), Erwan Maheo (La Cambre), Sanja Mitrović (RITCS), Cédric Noël (la Cambre), Marielle Pelissero (ULB), Karolina Svobodova (ULB), Karel Vanhaesebrouck (ULB & RITCS)
ERG TV: Monsieur Pimpant
Website: Mathieu Levet
Special thanks to: Nicole Sounou (ULB) and Erg Matos Team

A pedagogical project of ENSAV La Cambre (atelier Espace urbain), ERG (Atelier Pluri Art, Livestream), RITCS (Drama Department) and ULB (Master en Arts du Spectacle) generously supported by FONDATION BERNHEIM